Wow….innovative, powerful, advanced, sleek, responsive, accurate, and stylish are just some of the adjectives that can be used when describing the new Dye M2 paintball gun.
But let's calm down for a minute and take a proper look at this marker, so you know exactly what you get for your money here…
There is no doubt that you are getting a very high-quality gun here with the Dye M2.
But it does come with a hefty price tag, so this is not a paintball gun for anyone less than the serious player, who understands and needs the range of features that it provides.
A detailed look at the Dye M2
As a result of 12 years of development and re-engineering, the new Dye M2 offers superior performance, packaged in a very sleek design.
From a visual perspective, this gun looks incredible. But the beauty of the M2 is not just skin-deep, it dives deep into its core design as well.
Packed full of electrical features designed to add finesse to your game, the M2 marker is for the advanced player.
It allows you to make many adjustments to the gun as you need them, even if you are in the thick of a fast and furious game.
Rechargeable Battery
Now, charge your M2 within no time and play instantly as it contains fast charging technology. You don't need to rush to purchase a 9-volt or seek help from your friend in this context. You just require a power source where you could connect a USB cable to use the micro USB cable for a power supply. Just connect the micro USB cable with M2 and that's it. Let it do the rest of the work.
Wireless Charger + Tech Mat
You can charge the M2 wirelessly. It allows you to download customizable boot screens by using an average micro USB port. It comes with an automatic software update system and fast charging technology. Now, you don't need to waste hours charging it.
As we've mentioned before, the Dye M2 is based on the DM series platform, but unlike other paintball guns in that series, it was re-engineered from the ground up to add several improvements.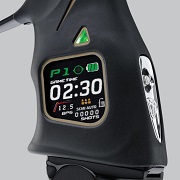 Prism Interface: The interface comes with a bigger 1" colored OLED in high resolution so that the user may get feedback, settings, and tuning with a one-touch mechanism. Due to the OLED, it's easier for you to update performance settings without delay.
Key features of the Dye M2
Here are several examples of M2's primary features.
Improved accuracy – This is largely thanks to DYE's patented closed spool fuse bolt design, which operates at an extremely low 135 psi.
The resulting optimized airflow gives the M2 improved air efficiency and better accuracy, while the increased bolt speed allows for smooth bolt cycles and reduced recoil.
Electrical features – Another great feature of the Dye M2 is that it features well-thought-out electronic control systems.
These systems include internal pressure sensors, improved service systems, upgraded operational controls, and of course the Method Operating System (MOS) itself.
Components, like the Prism Interface and a 1-inch full-color OLED screen, are designed to improve the M2's performance and accuracy by allowing users to update or fine-tune their performance settings whenever they need to do so.
Other electronic features include rechargeable batteries, a five control joystick as well as a wireless control connection between the body and the frame.
All of these electronic features are not only designed to improve the M2's performance, but they can also help you maintain your M2's more sensitive components.
It's worth mentioning that the Dye M2 offers excellent handling thanks to its good craftsmanship and ergonomic design.
It can be used comfortably under many different circumstances.
Gas-thru grip frame and internal pressure sensors, for example, are designed to keep the M2 easy to use even under the most difficult situations.
The Pros and Cons of the Dye M2
Pros
Excellent accuracy, and handling
Great range and projectile control
Electronic components allow users to quickly adapt to changing situations
Settings can be quickly and easily adjusted
Reduced recoil thanks to Dye's patented close spool fuse bolt design
Cons
It costs a lot of money. At around $1,500 in most stores, the Dye M2 is more expensive than other paint guns.
Thanks to its numerous electronic components, the M2 requires constant cleaning and maintenance.
Although the M2 is durable, replacing damaged components can be expensive.
Last thoughts
There's no question that the Dye M2 is a great paintball gun, and it's definitely targeted at the veteran paintball enthusiasts who are serious about the game and want the best equipment available.
The M2 is accurate, easy to use and it offers a range of very useful features that can enhance your game and varied situations.
If you understand how to make the most out of the features that the Dye M2 offers, then you will find this a marker that is very much worthy of its price tag.
Subscribe To The Paintball Blasters Newsletter
Don't worry, we don't spam