Are you and your friends planning for a paintball outing? The way you prepare for your paintball game can make your first paintball experience good or bad. The most common question that a first-time paintball player asks is what he should wear while playing paintball. The things you need to wear on the paintball field depend on which environment and conditions you will be playing paintball in. The weather conditions and the environment of the playing field should be considered. You would be exposed to muddy, slippery trails, rain, and snow, and the weather conditions can be warm or cold. So, this guide will provide you all the information about what to wear when playing on a paintball field.
Paintball Hats/headwear
To play paintball, you need to wear all the necessary equipment and gear for safety purposes. Hats/Headwear is quite necessary because paintballs can travel between 260 to 280 feet per second. They can go as high as 200 miles per hour, and the headshots are quite challenging to handle or slightly uncomfortable. To make the shoots even smoother, people like to wear baseball hats, rags, winter caps, or headwear specific to paintball sessions. It will help you protect your head from an injury.
The main rule of playing paintball game is that you shouldn't let your skin expose much. If the paintball hits bare skin, it will give you a stingy feel, and the next thing you will realize that it is not coming off. It will feel like a rubber band, which is hard to stretch or move even if you wash it many times. Wearing a comfortable and beautiful fit shirt must be your first choice. Most of the paintballers like to wear dark-colored loose sweatshirts, hoodies, or long sleeves shirts. There are specific jerseys and jackets to prepare yourself for playing in different and intense weather conditions. Wearing loose clothes will help you hit the target easily, and they will not tear away.
Paintball Gloves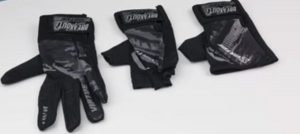 When playing a paintball game, your hands are most commonly used. The marker in a paintball game has a limited range, and you have to bring it down to counter-attack your opponents. Hands are very tender, and if the paintball shots are exposed to the hands, especially if the range is closer enough, it can be highly sensitive to the skin. People like to wear duty mechanics, gardening gloves, golf gloves, and football gloves. The fingerless weight lifting gloves are also a common and popular choice among the players, and if you aren't satisfied, you can even go for paintball-specific glove range. It is recommended to stay away from winter gloves, welding, or latex gloves as they will not give the required protection to the user. Such types of gloves are very thick, and they will trigger sensitivity rather than smoothness.
When you are playing paintball games with a lot of passion, your legs will be exposed to various elements, while a lot will also depend on what type of surface you are playing. The thorns, twigs, rocks, or dirt on the uneven and tough terrains can scratch your legs and knees, and no doubt, it can be highly dangerous. It is recommended not to wear shorts, and that is why many players wear dark/loose sweat pants and jeans. The cargo pants, jumpsuits, or even paintball-specific pants can help the players in many ways. When you have such protective pants, you can feel assured that you are safe on the playing ground.
Pod packs
Pod packs are harnesses that help you to carry pods. These pods help the players to carry extra paintballs on the field. Pod packs can be horizontal or vertical in shape and are lightweight. Horizontal pod packs easily strap around the waist and maintain a horizontal position. The pods are easy to reach and can also be put back into place conveniently. However, the pods stick out from the side and become visible, making it difficult for them to roll quickly on the ground. Vertical pod packs are worn vertically along the waist and held closer to the body than flat packs.
Paintball vest
The paintball vests are also essential for paintball players. They offer high-quality built-in padding that helps absorb the impact. The vests include several pockets to hold the paintball accessories that you might need on the paintball field. You can store things like radios, mops, squeegees, watch, water bottles, and personal items such as wallets and keys.
Goggles
The paintball players who play paintball frequently must invest in paintball goggles because mud and dirt can go into your eyes and damage them while you play paintball. They come in a variety of shapes, sizes, and styles. High-quality goggles provide anti-fog shields and comfort lining that can help you to see more clearly.
Shoes/Cleats are one of the most critical components when playing paintball. The players always have the risk of an ankle injury. Football or soccer cleats, army boots, and hiking boots are widely used to play paintball because they provide a high level of protection to your feet. Also, they help you to play efficiently, even on wet and dirty grounds.
Note: Don't forget to take a paintball backpack to keep your paintball gears and accessories.
Subscribe To The Paintball Blasters Newsletter
Don't worry, we don't spam